救助台灣水災災民 Sunshine Nation門票收益將撥捐賑災之用

Posted:August 17th, 2009 | by admin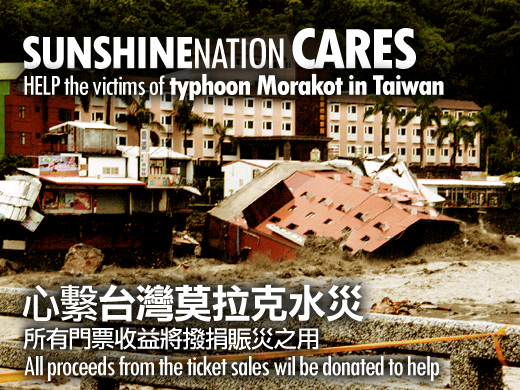 風雨無情,人間有愛。為幫助台灣莫拉克風災災民,加拿大中文電台決定將Sunshine Nation 2009所有門票收益撥捐作賑災之用。現在你也可以出一分力,向災民伸出援手。購買Sunshine Nation 2009門票,除了可以現場感受精采的比賽過程,欣賞香港新一代青春跳舞組合Hotcha載歌載舞,見證新一代Sunshine Boyz和Sunshine Girlz的誕生之外,更可以做善事,幫助這次風災有需要的人。
門票$30一張,閣下可於辦公時間親臨加拿大中文電台位於列治文時代坊的辦事處購買。地址可按此查看。
Sunshine Nation CARES. As part of the global community, Fairchild Radio has decided that all proceeds from the ticket sales of Sunshine Nation 2009 will be donated to help the victims of typhoon Morakot in Taiwan. So now YOU can help. Buy tickets to watch Sunshine Nation 2009, enjoy the spectacular performances of our finalists and guest performers Hotcha, and contribute to the donation that will help the victims in Taiwan.
Tickets are $30 each. You may buy tickets at Fairchild Radio's office at Aberdeen Centre in Richmond. Click here to see the address.
» 2 留言 Comments | 加入留言 Leave a comment!
本篇日誌有 2 篇留言
This post has 2 response(s).
加入留言 Leave a Comment
You must be logged in to post a comment.